Kildwick Typhoid Epidemic (Dec 1898 to mid-March 1899)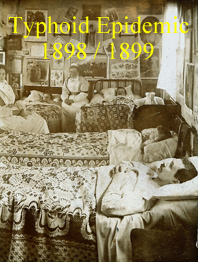 Typhoid was not uncommon in Britain in the late 19th century, particularly in rural areas such as Kildwick and Farnhill which did not yet have mains water or sewerage systems.
What makes the Kildwick case noteworthy is not just that it was an epidemic in its strictest sense, with the disease spreading from a single source to affect the larger community, but that the source and how it came to the area can be clearly identified.  It is also the case that the Kildwick epidemic was much more extensive than the other outbreaks in the area, in terms of how long it took to be brought under control, the number of people affected, and the number who died.
The Local History Group is engaged in a major project to research how our villages suffered as this epidemic took hold, and the devastating effect it had on the families and community.
Do you or your family have any additional information on the Kildwick typhoid epidemic ?  If so, the Farnhill and Kildwick Local History Group would like to hear from you.  Please email history@farnhill.co.uk