We think we might have cracked it !
Where was Winifred's Cafe and who was Winifred ?
Ever since we first posted the mystery of where Farnhill Wood cafe and cyclist's Rest Stop was located, people have suggested it was later known as "Winifred's Cafe" and then became Craven Forge (now a private house), located on a plot set back from the main Keighley road.
However, there's now two pieces of evidence that Winifred's was NOT on the Craven Forge site, which is in Bradley, but further along the Keighley Road, in Farnhill. In our original post we included an extract from the 1911 census that locates the "Farnhill Wood Refreshment Rooms" quite clearly in Farnhill - and groups it with other buildings on the main Skipton Road, such as Red Lane slaughter-house.
Since then, we think we've found a reference to Winifred herself in the 1935 Electoral Roll for Farnhill.
A lady called Winifred Spoor is living in "The Hut" on Keighley Road, Farnhill. Could this have been the Winifred of "Winifred's Cafe", perhaps also known as Farnhill Wood cafe and Cyclist's Rest ?

So, where was it ?
Well, obviously, it was on Keighley Road, in Farnhill; possibly somewhere near the old Red Lane slaughter-house.
This brings us back to the suggestion made at our village event in October 2013, and reported in our previous update to this mystery, that the cafe was on the Keighley side of Cononley Lane End bridge, just beyond the long bend.
At the time we weren't wholly convinced about this. Our photographs show a building surrounded by trees, as if it were very close to Farnhill Wood, but there are no trees at the Cononley Lane End bend. Or, at least, there aren't these days !
Mike Scarfe, of Farnhill Parish Council, has drawn our attention to an old photograph of Keighley Road posted on the council's website as part of one of their "Spot the Difference" articles. (Reproduced below, our copy is from the Keighley and District Digital Archive.)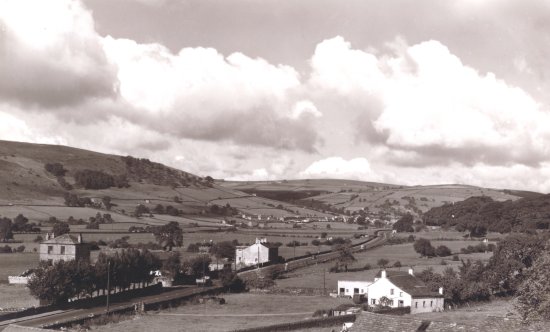 This shows a view of the Keighley Road; looking towards Skipton; probably dating from the 1940s, or thereabouts. The white farmhouse in the foreground is on the site of the old Red Lane slaughter-house.
What caught Mike's attention was the small building in the far distance, long-since demolished; near the bend in the road; surrounded by trees.
Well, what do we all think ? Is this Farnhill Wood cafe, aka the Cyclist's Rest, aka Winifred's Cafe ?
Please send any comments, thoughts, or further information to history@farnhill.co.uk.
Update posted: 31/10/2015