Ask where the Kildwick and Farnhill Institute is and you'll be directed to the building half-way up Farnhill Main Street. It's a converted mill warehouse and has been the Institute since it was given to the village by the Brigg family in 1911; there's even a stone plaque with the date above the front door.
But there must have been an earlier Institute: most likely in Kildwick. Here's a clipping from the Craven Herald dated August 11th 1883.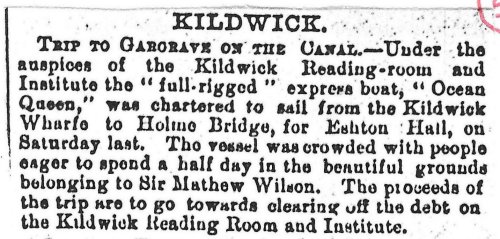 "The proceeds of the trip are to go towards clearing off the debt on the Kildwick Reading Room and Institute".
So where was the Kildwick Reading Room and Institute ? What happened to it ? If you have any idea, please email history@farnhill.co.uk.
Note: We can say with absolutely certainty that it wasn't the building by Kildwick bridge, now the New Church Centre but originally Kildwick Conservative Club. That was built in 1912, by Sir Mathew Wilson's grandson.
Posted: 29/09/2018