This mystery started when we came across the following clipping from the Keighley News, dated 16/01/1947. A local composer has had a major classical work performed on the BBC.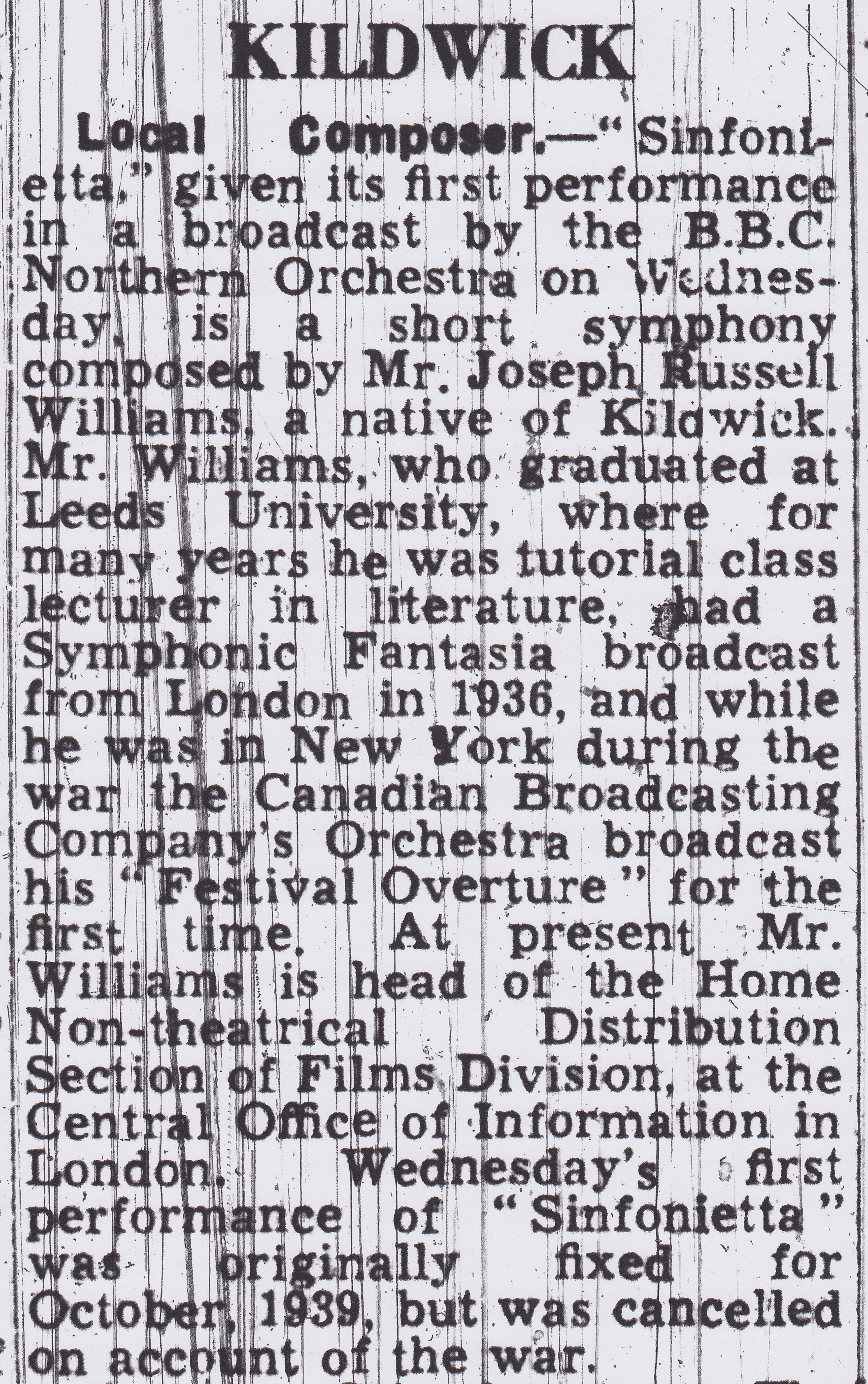 A search of the census records has found a confused history for the Williams family.
The family seems to have originated in Ireland, and they first appear in Yorkshire, living in Wilsden, in the census of 1881. Joseph Russell Williams was born in either Farnhill or Kildwick, in 1900. The 1901 census records him as staying in the home of his paternal grandmother, in Wilsden, although his parents, Thomas and Mary, appear to be living at New Road, Farnhill (New Road is the main Keighley-Skipton road).
The 1911 census shows the Williams family living in High Farnhill. It records Thomas as the head of the family, with Mary his wife and two sons - 11 year-old Joseph Russell, and 17 year-old Thomas Rhondda. This is the first record of young Thomas, who is listed as having been born in the USA. Another interesting feature of this census entry is that although Thomas senior is recorded as the headof the household, he does not seems to have been in Farnhill on the night the census was taken. His name does appear on the entry for his mother's household, in Wilsden, but has been crossed-out. Perhaps there was some confusion about where he would be that night ?
Is there anyone out there who knows any more about this family ? If so, please email the web administrator. We are particularly keen to hear more about the musical output of Joseph Russell Williams, who seems to have produced some quite sizeable, classical works, but whose name does not appear in the usually authoritative "Grove Dictionary of Music and Musicians". An approach for further information to the BBC has also been met with no response.
Posted: 25/01/2014