High up on the moor, beyond the Farnhill Pinnacle, is a point where Kildwick, Farnhill, and Bradley all meet. Perhaps not surprisingly, this point is marked with a boundary stone.
On the Kildwick Parish Map of 1768, commissioned by Christ Church Oxford, this is called "The Parting Stone".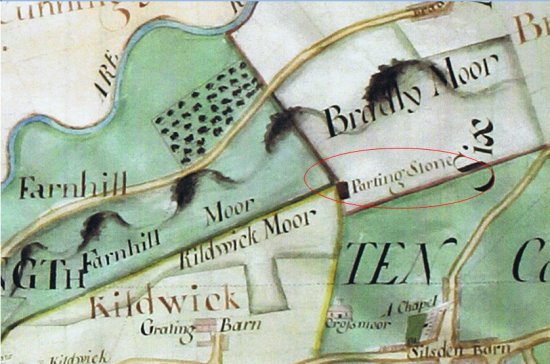 On the 1838 Farnhill Tythe Map, a description of the stone is provided: Bonndary Stone marked B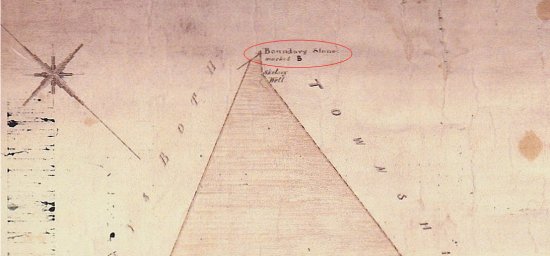 It may come as a surprise to find that the stone is still in place.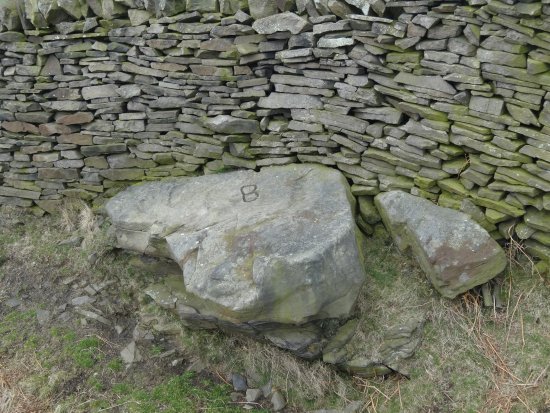 Posted: 30/01/2016
The extract from the 1768 Kildwick Parish Map is used with permission of Christ Church, Oxford. The photograph of the Parting Stone is from Robin Longbottom who, together with Chris Riley, has recently published a book on the boundary stones of Sutton-in-Craven, "Riding the Boundary of the Old Township of Sutton-in-Craven". They are currently researching boundary stones in Kildwick Parish. If you can offer any information, please send us an email and we will pass on your message.