A what ?
On May 24th 1912, shortly after sunrise according to the inscription on her gravestone, Margaret Dorothy Wilson, Peggy as she was known, the only child of Annabella Margaret and Col. Richard Henry Francis Wharton Wilson DSO, died. She was 18 years old.
Col. Wilson was the owner of the Kildwick estate, which he had inherited from his grandfather Sir Mathew Wilson in 1891.
A short while after Peggy's death, Col. Wilson made a gift of the field opposite the school for use as a playing field in her memory; and in 1924 provided a gazebo.
The Craven Herald (November 14th 1924) felt it had to explain:
A Useful Gift - Col. Wilson DSO, together with his agent J.W. Broughton, and a party of friends, visited the village on Friday morning. The object of their visit was the presentation of a Gazebo to the village. The Gazebo (a word meaning look-out) is a substantial building which has been erected in the school recreation ground. The ground floor is intended for a shelter for the children, and the upper floor, which is fitted with window seats, as a resting place for older people.

On the outer western wall is a stone on which is carved "For the enjoyment of children and others of Kildwick, and in memory of an only child, 1894 Peggy 1912, this building and the playground attached is given. RHFWW. AD 1924." [The playground was given by Col. Wilson a few years ago.] In making the presentation, Col. Wilson said it was a memorial to his only child Peggy, and he hoped the children would make good use of it. Songs were sung by the children, and cheers given for the donor. The Vicar of Kildwick (Rev. CEV Hodge) acknowledged the gift.
The History Group has just one photograph of the gazebo in its archive. Sadly it has suffered some water damage, but has been digitally restored for us by the efforts of Dr. John Laycock of the Keighley and District Digital Archive.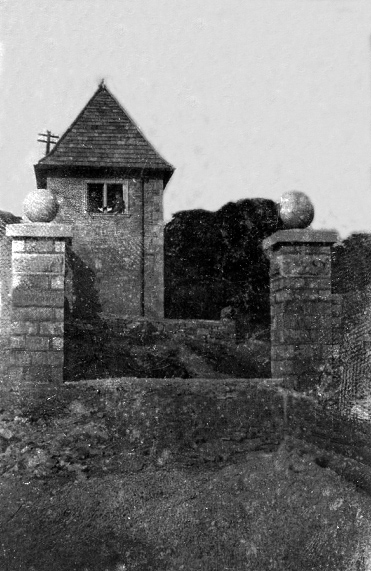 It is thought that the gazebo was demolished, without any prior discussion, by Rev. Selby in the 1950s. The playing field is currently operated as a charity.
Posted: 31/03/2018