This anecdote has been prompted by a photograph received from one of the readers of our website.
In one of their books of local postcards and old photographs, Peter Whitaker and Alec Wood include a group photograph taken outside Kildwick Hall. The text reads:
Story has it that in the hall one was first confronted with, hanging behind the door, an ugly and rusty man trap similar to the type used for rabbits but with 2 inch teeth capable of being employed with terrible effect. It is said to have last been set on the front door step sometime around 1845 when a burglar was anticipated, no game however was caught!
We've always assumed that this was a bit of a tall tale; the sort of story that often accumulates around old buildings that have a history to them.
At least that's what we thought until this appeared among a collection of old photographs taken at Kildwick Hall between 1911 and 1920: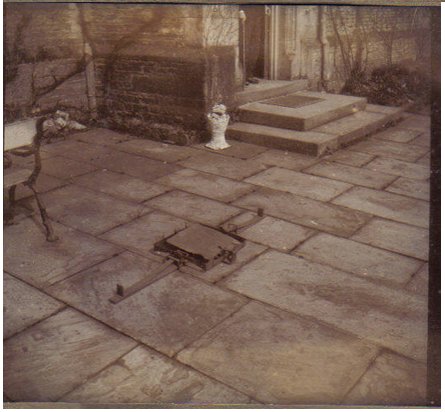 Yes, it's a man-trap spread out on the courtyard of Kildwick Hall !
With thanks to Janet Hodgson (Posted 28/09/2013)